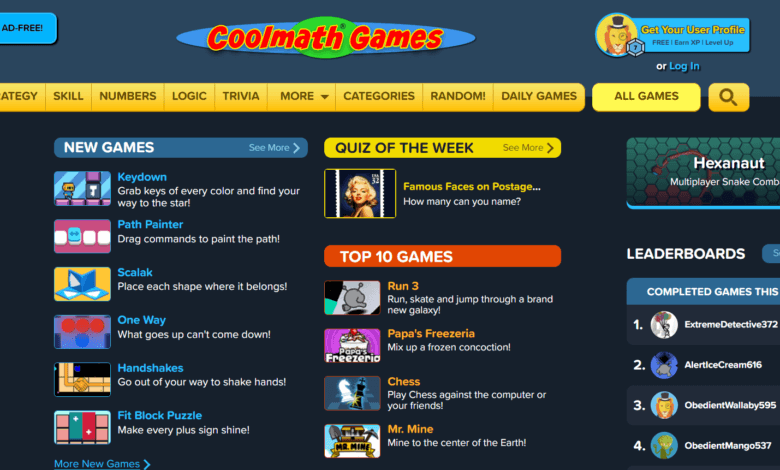 Coolmathgame.com commitment to providing a safe and wholesome gaming environment. Unlike many other games, there is no violence, mindless action, or inappropriate language present. Instead, users can indulge in a diverse array of logic and strategy puzzles that offer a mental workout without compromising on the content's suitability for all ages.
CoolMathGames is a part of the broader Cool Math network, which also includes Coolmath.com and Coolmath4Kids. Coolmath.com provides comprehensive math lessons and explanations covering a wide range of topics, such as algebra, pre-calculus, decimals, properties, factors, and more. On the other hand, Coolmath4Kids offers math resources specially designed for children aged 12 and under.
CoolMathGames caters to various learning skills and cognitive abilities. It offers a diverse selection of math games, organized into categories like Strategy, Skill, Numbers, Logic, Trivia, and more. Despite its name, the Cool Math Games website extends beyond pure math challenges. It features an array of mini-games that cover different subjects and content areas, including memory games, jigsaw puzzles, science games, geography-based games, classic games, and many others. This broad range of options ensures there's something engaging for every user regardless of their interests or academic focus.
All the games on Coolmathgames are carefully designed and selected to meet the needs of both fun and mentally stimulating. You can use the games to build skills like pattern recognition, logical reasoning, memory recall, strategy, and of course, math.
Advantages of Game-Based Learning
Educators widely recognize the enhanced student engagement that arises from the enjoyable and expressive nature of games. Moreover, educational games can serve as an alternative pathway for certain students to grasp challenging or otherwise inaccessible subjects. Scot Osterweil, MIT professor and Creative Director of the MIT Education Arcade, emphasizes the significance of play and games in the learning process by highlighting the four freedoms of play:
The freedom to experiment
The freedom to fail
The freedom to try on new identities
The freedom of effort
In addition to their academic content, games also contribute to the development of essential social-emotional and 21st Century skills, including:
Problem-solving
Strategic thinking and planning
Patience, resilience, and perseverance
Concentration
Learning to fail and try again
Creative self-expression
By thoughtfully and judiciously integrating learning games with your instructional approach, you can effectively introduce these benefits to your students.
Cool Math Games Sign Up
Follow the steps below to create your Coolmath games account online.
Go to the official website of CoolMathGames at www.coolmathgames.com
Click on "Get Your User Profile" at the top right side of the page
Create a login id and create your password
Choose an avatar and pick a theme
Then choose a nickname or customize one and click on Sign Up
Coolmathgames.com Sign In
Signing in to your account becomes easy if you use the steps given above to create an account. You'll need your registered login id or username and password to gain access to the Coolmathgames platform. See the steps below
Go to coolmathgames from your browser
Click on the login link at the top right side of the page
Enter your registered login ID or password in the space provided for it
Then click on "log in" to access your account
CoolMathGame Mobile Sign in
Determine whether the app requires a login.
Open the app
Find the Login Sign-in button
Tap the identification text box
Enter your identification
Enter your password
Tap Log In or Sign In
To stay logged in, you will have to check the Remember me box on the login page.
Troubleshooting Guide
If you are having trouble logging into your account, please follow the steps below.
To log in to your Cool math games free login account, open this guide in a new window. You'll be able to follow along with the steps while seeing them!
Login by entering your login details for CoolMathGames free login. This information will be given to you either upon sign-up or from an authorized representative of the website.
After receiving a "successfully logged in" message, you are officially connected with Cool math games' free login!
Cool math games free login may have trouble accepting your login credentials. We recommend following these step-by-step instructions to help solve this issue.
Interesting Categories Of Cool Math Games
Below are the games and more that you can browse on Coolmathgames.com
Strategy Games
Skill Games
Number Games
Logic Games
Memory Games
Classic Games
Jigsaw Puzzles
Science Games
Geography Games
Cool Math Games that are both fun and inspiring, and the best part is that you can enjoy them offline!
Prepare for a captivating journey into a realm of thrilling and enjoyable math adventures with these CoolMathGames! Bid farewell to mundane learning and welcome a fresh approach to mastering addition, subtraction, multiplication, and division. Whether at home or school, these games are ideal for immersing your children in the fascinating world of numbers.
Cool Math Game Frequently Asked Questions
Is Cool Math Games Functional?
Every single one of Coolmath's games is working flawlessly. If you happen to encounter any issues with a game not functioning properly, the problem most likely lies on your side and can likely be resolved.
Does CoolmathGames Truly Emphasize Math?
The website is associated with a math games site called Coolmath Games, where certain games can serve as educational tools for teaching strategy or practicing mathematical concepts. However, it's important to note that not all of the games are strictly math-focused; some are labeled as "brain-training" games, making them more suitable as rewards or breaks for students rather than direct math learning tools.
Is Coolmathgames a Legitimate Platform?
Coolmath Games boasts a respectable rating of 3.3 stars based on 15 reviews, reflecting the overall satisfaction of the majority of its customers. As an Educational Games site, it holds an impressive rank of 9th among its counterparts.
What is the alternative to Coolmath?
mathplayground.com
coolmath.com
hoodamath.com
crazygames.com
poki.com
cognifit.com
What is the Suitable Age Range for Coolmath?
Coolmath.com is designed for individuals aged 13 to 100, offering accessible math learning materials, tools, and lessons on various topics like algebra, pre-calculus, and more.
Is Roblox Available on Coolmath Games?
Absolutely! With the right tools and resources, coding your own Roblox game becomes a breeze. Coolmath Games not only offers an impressive collection of games but also boasts one of the best coding tutorials available, specially tailored for Roblox enthusiasts.
Reasons for the Abundance of Ads on Coolmath Games
The ads on Coolmath Games serve several purposes. Firstly, they contribute to the improvement of the website. Additionally, they enable the delivery of interest-based or targeted advertising. Furthermore, these ads help in gaining a better understanding of the interests of the website's audience and visitors. Lastly, they aid in observing user behaviors and browsing activities across multiple websites or platforms over time.
Is Coolmath Coding Free?
Coolmath Coding is not free; it is available for a subscription fee of $4.99 per month. This subscription allows children to learn to code using Minecraft mods and Roblox games, utilizing a beginner-friendly drag-and-drop code editor. Coolmath Coding provides all the necessary tools and tutorials to learn Java code for creating Minecraft games or Lua code for developing custom Roblox games.
Does Coolmath Games Offer Horror Games?
Absolutely! Get ready for some spooky fun with Coolmath Games' collection of the spookiest and scariest games. You'll encounter ghosts, ghouls, vampires, zombies, and other things that go bump in the night.
Reasons for Schools Implementing Internet Restrictions
Schools implement strict rules and restrictions to protect students from harmful and distracting content on the internet. The primary goal is to maintain a focused and safe learning environment. While the internet can be a valuable educational tool, it also poses numerous dangers that schools must be vigilant about to safeguard their students' well-being.
How to Cancel Coolmath Subscription?
To cancel your Coolmath membership, please navigate to the My Account section and follow the provided instructions for cancellation. It's essential to wait for a cancellation confirmation email from Coolmath Games to ensure the process is finalized. While cancellations prevent future charges, they do not include refunds.
Reasons for Schools Blocking Cool Math Games
Montgomery County Public Schools (MCPS) have blocked Cool Math Games due to its perceived lack of sufficient educational benefits for students. After being cherished as a beloved website for many years, the decision to block access was taken by the school authorities.
Reasons for Schools Allowing Cool Math Games
Coolmath Games are often permitted in classrooms because it offers a distraction-free way for kids to play games when they are bored. Teachers sometimes allow its use as it helps keep students engaged and quiet. The website serves as an escape from the monotony of regular class activities, providing students with a brief respite.